How a book cover came to be …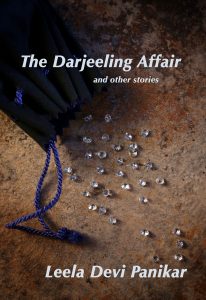 In the story, there is a landslide, so I walked a whole month carrying my camera, early mornings and evenings, walking up and down the lonely lanes and shrubbery paths of our hillside, looking for a suitable mini-landslide or rockfall.
I photographed scenes that seemed perfect to my naked eye but in print they did not look genuine enough to seem like a landslide. I realized that portraying the landslide that occurs in my title story, The Darjeeling Affair, was out of the question. I should have waited another month, at which time we experienced quite a few storms that brought about a few major and minor landslides, but I couldn't wait – I needed a cover photo.
My idea was to capture a simple scene. I decided on a background without a distracting texture, a pouch that looked like it had been dropped, spilling its contents of diamonds. I discussed this with Don and we thought it was a good idea.
The Leela-Don Think Tank got to work, thrashing out the idea in more detail: location and type of light, not too bright, not too dark but dim enough to create a little mystery. Done. We chose our concrete back patio floor for the background, grubby and photogenic. The time of day was to be quiet, moody … light created as sun went down.
I found an old jewellery pouch in a drawer. We purchased a pair of diamante earrings from Little India in Penang. Prising out the 'diamonds' turned out to be a difficult task as the mirror backing of diamonds stuck to the super-glue that fixed them to the earring mould. We had to go back for another pair to have enough stones. We carefully placed the diamonds by the pouch to look as if they had just spilled out. Most of the diamonds insisted on sitting on their flat surface exposing the pointy rust-coloured ends. With a pair of tweezers, I turned every diamond to face the best way.  They had to be sitting facet-up in carefully arranged disorder.
Now it was all up to Don. Out came the Canon 5D Mark III, the 100mm macro lens, and a reflector. Photographing had to be at the right time and quick. If too early there were too many branch and leaf shadows from the trees behind our home where the sun was setting. If too late it was too dark. Tropical sunsets are dramatic but too quick. By the time the first shots were checked, the light had gone. It took three evenings of sunsets and three evenings of rearranged diamond sets before we got the right light.
Success on the third evening. The last set of photos looked just right, and we chose the best photo to send to the art director.
The Darjeeling Affair cover was born.
Save