The Windup Bird Chronicle
Haruki Murakami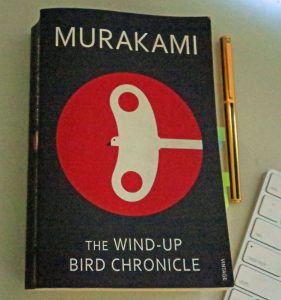 It's a dark place where I got lost.
A novel in layers: the real world, and parallel worlds of fantasy and dreams. The writing reverberates with the now, the future and the past, real and supernatural.
A tale of questions asked, but often not answered. Its a tale of coincidences.
The story begins with the search for a missing cat. The mystery begins with Kumiko having gone to the end of a deserted alley where an empty house stood and had not told her husband, Toru Okada about it.
Here too, are Murakimi's love of deep wells, cats, music, cooking. Western classical music and jazz, his penchant for women's delicate shell- shaped ears, women elegantly attired: suits, skirts and crisp blouses, hand bags, hats and heels. All mundane on the surface but really not.
Two wells, one deep-dry, cold, silent. Lieutenant Mamiya is thrown into it, a well pierced by a daily shard of sunlight that appears for a few moments each day and at the same time. The other a deep-dry, dark, silent well. Toru Okada voluntarily spends time in it. "Poor Mr. Wind-Up Bird" climbs down into the well to seek meaning to his life. Here he encounters out-of-body experiences. Okada's forays into the dry well allows him to find an alternate world, mysteriously peopled, and though he is confused by their secrets he seeks the experience. Eventually both men are saved from their deep physical wells, one turns into a philosopher. Okada is saved when the well suddenly fills with water. He carries on with his search.
Most gripping chapters of this novel are the historical, WWII, episodes, terrifying war stories told by Lieutenant Mamiya. This man, a stranger, makes Okada's acquaintance when he brings a rather mysterious gift, bequeathed to him by Honda, an old psychic friend. A friendship develops between the two.
We come across strange coincidental happenings and meet a number characters. Kumiko, Okada's wife disappears and her brother, Noboru Wataya, has a strange hold on her. May Kasahara, the teen-ager, is often present in Okada's life without being there with him. Sisters, Malta Kano and Creta Kano, are both steeped in mystery. Malta predicts bad things could happen and warns Okada beware. Creta knows that she appeared in Okada's dreams. Nutmeg Akasaka and her son, Cinnamon, are able to appear and disappear, they play a big part in Okada's life. Mamiya, the stranger, turns up with a gift from Honda, the psychic. Female characters resort to prostitution and easy sex. In much of Murakami's writing there is "The violence and sex abuse" which he says, "are a kind of stimulation", mmm.
The structure is often one of disconnect; and is unusual. There are abrupt breaks between sections that go back and forth, portraying past and present and future, real and surreal. Questions asked are not answered. Mysterious phone calls are not accounted for. There are long paragraphs of telling that often add explanations.
Lack of reason and logic makes the tale indecipherable on first the read. A second reading will be required to reach the depth of this story.
The Wind-Up Bird Chronicle, paperback, 607 pages of small font, by Haruki Murakami proved to be most challenging.
…"It's a dark, cool place, and you have to be careful, or you're lost. . . . You have to leave yourself." – Haruki Murakami.
Paperback from Gerakbudaya Books, Penang.