The Snake Temple

Penang
The Temple of Azure Cloud built in 1850 perches on a small hill in a lush setting with a magnificent back drop of trees and a tropical sky.
Later the temple was dedicated to the Buddhist monk Tan Chiau-eng (Hokkien name), honorific title of Chor Soo Kong. He was born in southern China on the 6th day of the Chinese Lunar calendar, some time during the Song Dynasty (960 – 1279). He dedicated most of his life as a healer in Penang and was ordained as spiritual leader at the age of 65.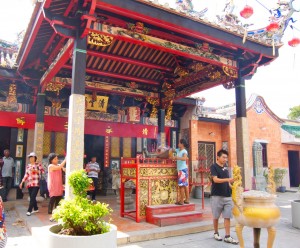 In central position at the temple is his statue, built in China and brought to Penang. He is portrayed with a black face, some believe his face turned black on eating poisonous herbs and others that he escaped from demons that tried to burn him. But his black face has now become a symbol of his compassion.
What is unique about this temple is it's the abode of pit vipers. In his life time the monk gave shelter to snakes and when the temple was dedicated the snakes from the nearby forest and hills moved in.
Everywhere one looks one sees green and yellow diamond headed pit vipers coiled around images, incense burners, offerings and lamps and furniture.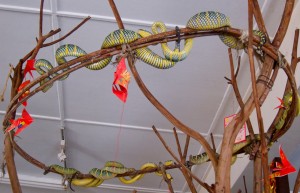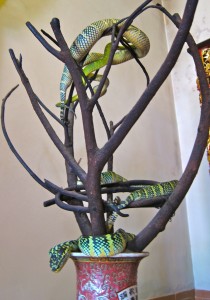 It is often said the snakes are drugged by the joss stick smoke but whatever the reason there has been no report of anyone having been bitten by any of these venomous snakes in the temple.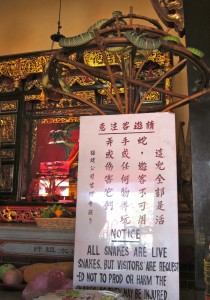 For a time when the temple was being renovated the snakes left the place and came back later, no doubt unhappy about the new concrete and paint.
Chanting of sutras begins at dawn but by late morning the nuns, monks and worshippers are out-numbered by other visitors who flock to the temple more interested in snakes than in worship or spirituality. The interest of tourists has given rise to souvenir and soft drink stalls.
Behind the temple lies a garden of herbs and lush fruit trees and here too snakes abound, coiled in the branches and around garden ornaments.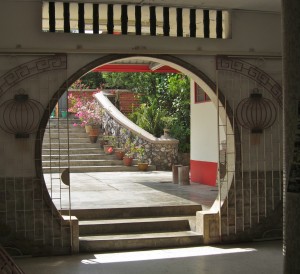 To the side separated from the temple, a hall houses other snakes and large pythons. And for a small fee at the snake hall one can have a sad python weighing close to one's own weight wrapped around shoulders for photo opportunity.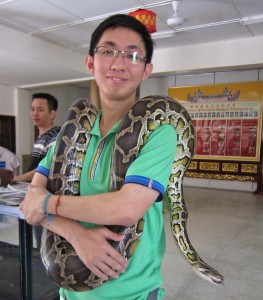 Visitor Information: The Snake Temple is open from 6 am to 7 pm.
From the city George Town one can get to Sungei Kluang which is not far from the Penang Airport in Bayan Lepas. It takes about 25 minutes by taxi. Buses are available from Komtar.
No entrance fee is charged. The temple is run on donations.