Walking Home by Simon Armitage
Walking Home the Pennine Way is not a book of poems from this famous poet but a personal account of Simon Armitage's experience, walking one of the toughest climbs in Britain. He undertook this task, a walk that stretched about 256 miles, in the summer of 2010. The usual pattern, and the easier one, is to walk from south to north but not the other way round. Simon did it from Edale, his home village in the Peak District, Yorkshire, to the north Kirk Yetholm, the other side of the Scottish border.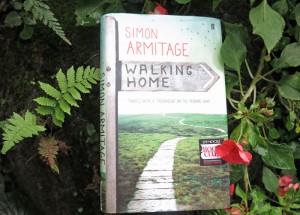 Tongue in cheek, he says, 'As a poet I am naturally contrary.'
He takes up the challenge with a rucksack his mother used when she walked the route at the age of fifty; and his dad tells him he doesn't need a coat. His wife says if this is a midlife thing why not get a Harley and grow a ponytail. Armed with walking paraphernalia and 'Avon Skin So Soft' Simon sets out to take this endurance test, to face the emotional and physical challenge. He trains for the tough job with the motto 'prepare for day two by walking on day one'.
Simon gives readings along the way at prearranged stops at villages and farms, in private homes, pubs, and churches. A modern troubadour travelling out without cash, passing a sock round for donations. At the stops his borrowed suitcase The Tombstone heavy with his volumes of poetry is delivered to him,.
The narrative is smooth, oftentimes contemplative. It flows beautifully and is filled with humour in spite of his discomfort of moors and bogs, the cold and the wet, the slush and the hard rock, and the bruising and deafening gusts. He perseveres through bleak terrain, across lonely fells towards his Yorkshire village. We see how different each of the farm villages and homes he arrives at are. Simon sees much beauty too and makes acute, detailed observations as only a poet can.
A notification of readings on his website brings him a good crowd of passionate admirers and a mix too of indifferent audiences and farm animals. And readings have ended up in the middle of dart games, or had to compete with the sound of clacking pool balls or bleating of sheep. Simon is surprised by the crowds who turn up and is surprised too by the generosity of villagers and visitors.
His rendition of happenings and his choice of words hilarious throughout the book had me laughing aloud. Often he writes with self-deprecating humour.
At one evening reading -
'Towards the end, several people in the audience seem moved to tears, covering their eyes with their hands and bowing their heads. One woman takes a handkerchief out of her bag and lifts it to her face. But it's just the sun, setting directly behind my back, reducing me to flames.'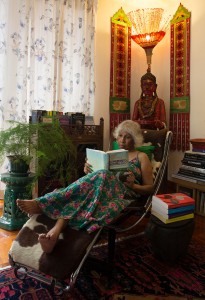 As an armchair rambler I enjoy reading more than walking tough mountain trails but 'Waling Home' made me feel I wanted to join Simon Armitage on his walk.
Walking Home warrants a second reading. I have developed a taste for tea and cake.
Leela Reading photo by Don Ellis